Create your company with Rauva.
E
ffortless
ly.
No more crowded appointment rooms.
No more confusing paperwork.
No more back and forth with the government offices.
No more wasted time searching for expert assistance.
The first all-in-one partner to set up your company.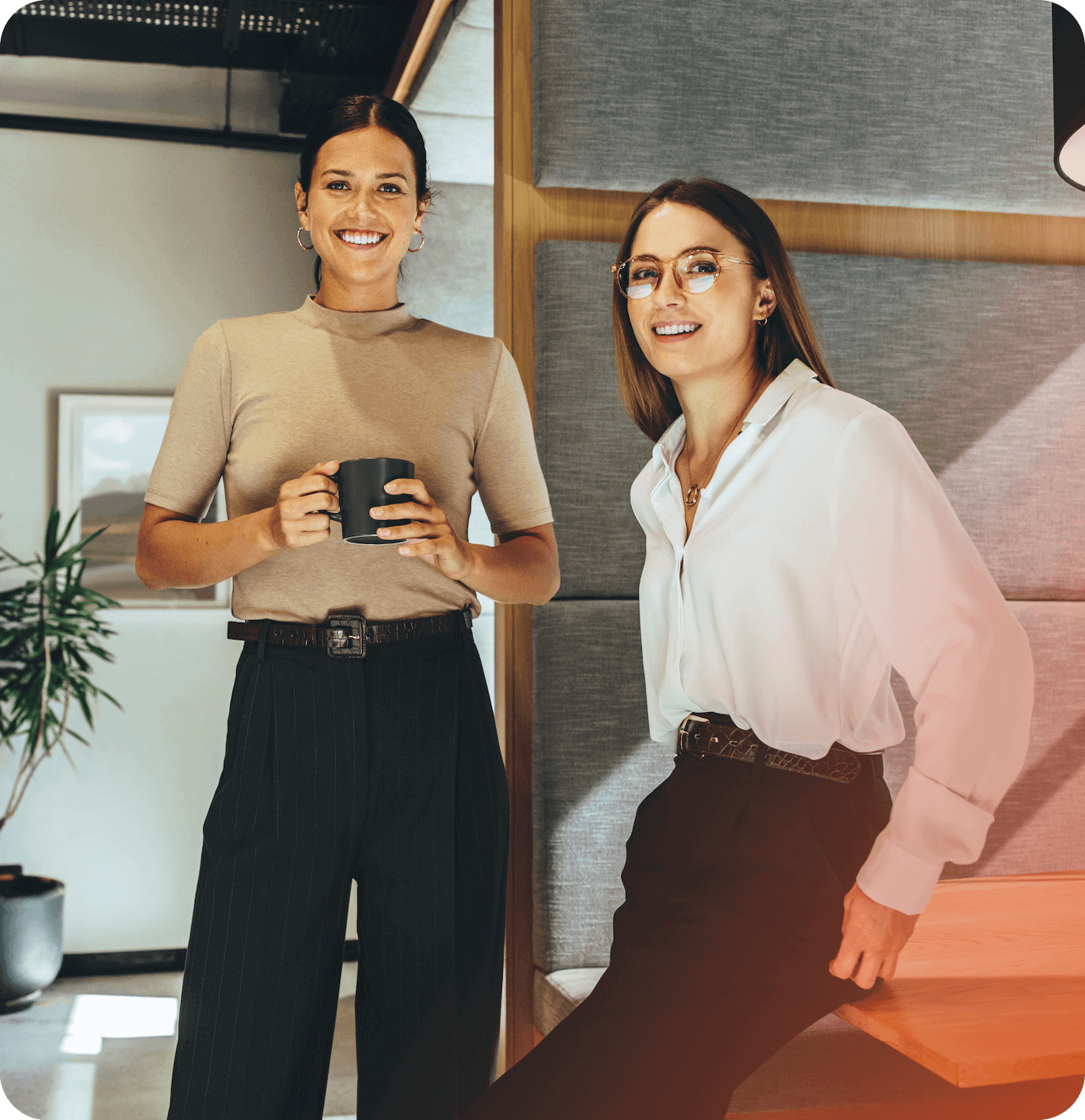 Seamless. Smooth. Transparent.
Set up your new business with a trusted partner.
100% digital. In Portuguese and English.
Your legal fees are on us.
We get it, Rauva did it too. The long lines to create your company, months to open your bank account, trial and error for overpriced accountants, and we are fed up. We bet you are too.
Launch your company with Portuguese Licensed Attorneys, get your business account, and appoint your Certified Accountant, all in one convenient place…without leaving your couch.
Bye bye crowded government waiting rooms.
No legal fees
to create your
company
Company creation by licensed Portuguese attorneys, Rauva's Supercharged business account, certified invoices, and monthly Certified Accounting services included.
* Does not include state fees of 220€ or additional services outside of a single shareholder LDA
Company creation free from legal fees, Rauva's Supercharged plan, certified invoices, expense management and Certified Accounting services, all-in-one.
Company creation by Licensed Portuguese Attorneys

All legal documents

Rauva business account (debit cards, SEPA

transfers, etc)

Monthly Certified Accounting
Monthly consultations
Certified invoices
Everything you
need to create and
run your company
in one place.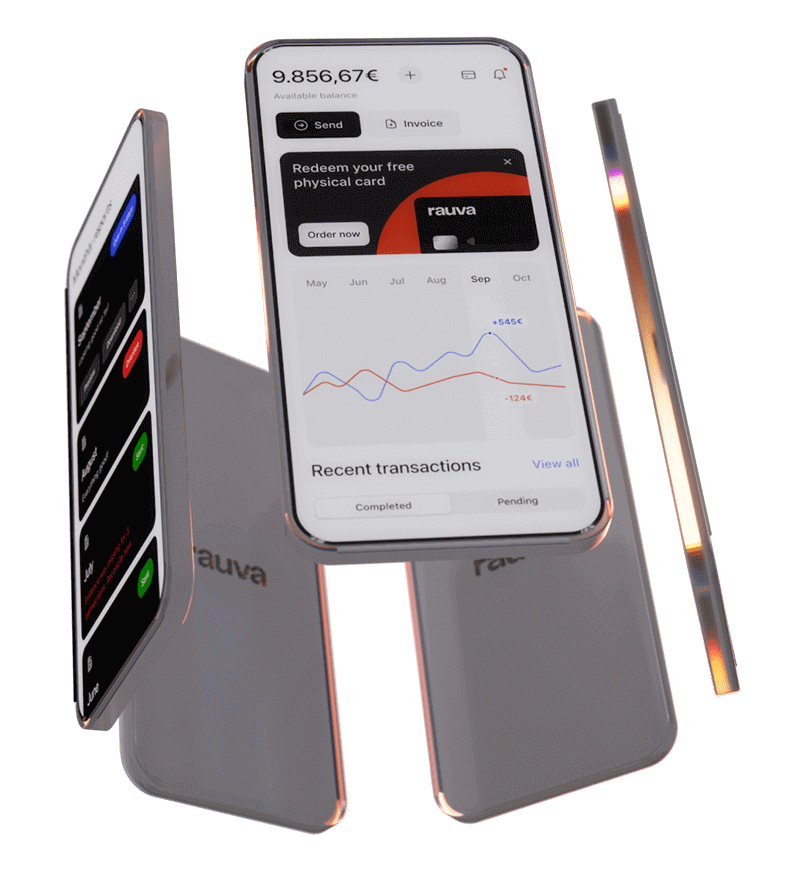 01
Discovery Meeting
Kickstart your company creation by answering a few questions
to best understand your project. It allows us to qualify your
needs and provide the best solution for your corporation.
02
Onboarding
We gather your personal information, copy of your ID, proof of address, and NIF. You sign a Power of Attorney giving our legal team the ability to work on your behalf.
03
Company creation
Our licensed Portuguese attorneys will navigate the bureaucracy, handle
legal documents, and ensure smooth company incorporation.
04
Business account & Certified Accounting onboarding
We open your Rauva Supercharged business account and
onboard you to your Certified Accountant.
Your questions. Answered.
What are the different types of businesses I can create with Rauva?
Sociedade Unipessoal por Quotas / Single-Member Limited Company

Owner: Constituted by a single partner.

Business name: Contains the word "Unipessoal" or the expression "Sociedade Unipessoal", followed by "Limitada" or the corresponding abbreviation "Lda".

Capital: Minimum amount of 1€.- held by a natural or legal person, in cash or in assets valued in cash. (some activities may require a given share capital (eg, road freight requires a minimum share capital of EUR 10,000).

Liability: Limited to the amount of the share capital.

Accountant services: Mandatory.




Sociedade por Quotas / Limited liability company

Partners: Minimum two partners. Industrial partners are not allowed.

Corporate name: The corporate name must end with the word "Limitada" or its abbreviation "Lda". The first part of the name can be chosen from one of the following options: a) a name composed of the full or abbreviated name of one, some or all of the partners; b) an expression alluding to the branch of activity; c) a combination of elements a) and b).

Capital: Minimum of 1€ per shareholder.

Assets: The company's assets are independent of the personal assets of the partners.

Liability: Limited to the share capital, it is this capital which is liable for the company's debts. The partners can have their liability increased if stated on the contract.

Accountant services: Mandatory.




Trabalhador Independente/Freelancer / Self-employed/Freelancer

Type: Provides services and you will choose your CIRS code when starting the activity.

Accountant services: Simplified tax regime for income up to €200,000 - with fewer tax obligations and no associated expenses (it is possible to opt for organised accounting).

Taxes: The taxation is fixed on 75% of the income, with the remaining 25% being considered expenses by the Tax Authority (AT). There is no requirement to submit proof of expenses.

Social Security: Contribution rate 21.4%.




Empresário Em Nome Individual / Sole proprietorship

Holder: A single individual or natural person.

Sector: Commercial, industrial, service or agricultural.

Business Name: Must always contain the full or abbreviated civil name of the entrepreneur. A nickname by which the entrepreneur is known can be added and may also contain an expression/name alluding to the business. If the entrepreneur has obtained the business through succession, he can add "successor to" or "heir to" to the name. Entrepreneurs who exercise a lucrative economic activity and not commercial, may have in the name of your company an expression referring to the branch of activity (as described in Decree-Law No 129/98 of May 13).

Capital: There is no minimum amount for the capital stock.

Assets: Personal assets and business assets are united.

Liability: Unlimited - the entrepreneur is liable for all debts incurred by the company with all the assets constituting the personal or business assets.

Accountant services: Mandatory when yearly net income is above €200,000.
What's included when I subscribe to the Supercharged plan for 200€ per month?
No legal fees for your company creation by Licensed Portuguese Attorneys.

Consultation to create your company and ongoing support.

All legal formation documents.

Rauva business account.

Certified invoices.

Monthly Certified Accounting services.

Dedicated customer support.
How do I ensure my certified accountant is appointed 15 days after my company is created?
Rauva's monthly Certified Accounting subscription, supported by expert accountants with 30 years of experience, will take care of this for you! We will ensure your registration with the tax authorities and provide comprehensive assistance with bookkeeping, taxes, and compliance ensuring a seamless process for your company's financial management.
What documents are required to complete the incorporation process?
To create your company you need to provide the following documents:
Personal identification document: This can be a passport, citizen card (EU citizens). Each shareholder or director must provide their respective identification document.

Proof of permanent address: A utility bill from the last 3 months works fine! Each shareholder and director should provide their individual proof.

Portuguese fiscal number proof (NIF): Each shareholder and director must provide proof of their Portuguese fiscal number (NIF).

Signed Power of Attorney (POA): The Power of Attorney will be signed digitally.
Missing a required document? Let us know, we can help!